NOCE is committed to providing a safe campus environment for its students, faculty, staff, and visitors. This also includes maximizing safety in our parking lots. For more information, regulations, and maps, see below.
---
Anaheim Campus
For the NOCCCD and NOCE Anaheim Campus parking regulations, please see below:
Cypress Center
Please visit the Cypress College website for the NOCE Cypress Center parking regulations.
Wilshire Center
Please visit the Fullerton College website for the NOCE Wilshire Center parking regulations.
---
Anaheim Campus Parking Regulations
Parking Requirements
The NOCCCD and North Orange Continuing Education (NOCE) Anaheim Campus operational hours:
Monday – Thursday: 7 a.m. – 10 p.m.
Friday 7 a.m. – 7 p.m.
All parking gates will be locked by campus closing time. Any vehicles on campus during non-operational hours and holidays and without proper authorization will be cited and may be towed. In an emergency, please notify Campus Safety to avoid a parking citation.
Parking Permits Fees
Student parking permits ARE NOT required for the 2023 Fall. All other regulations will be enforced. Student parking permit requirements will resume in Fall 2024.
For information regarding fees and how to purchase a parking permit at one of the NOCE Centers, visit:
Parking Regulations
It is the driver's responsibility to know and follow all parking regulations at NOCCCD campuses. Failure to do so may result in a parking citation. Citation appeal forms are available from the Security Office on the 2nd floor.
Properly DISPLAY a valid parking permit on the front windshield or dashboard. Student permits are not required until Fall 2024.
Observe posted maximum speed limits (5 MPH and 10 MPH) for everyone's safety.
Drop off/pick up passengers at the 1st level entrance marked by the yellow curb and 30-minute parking stalls. Drop off and pick up prohibited at 2nd level entrance marked by red curb and signage.
Park HEAD-IN only. DO NOT park backward into a parking stall, except for electrical charging stations when charging a vehicle.
Read and follow all signs posted and painted in the parking lots.
Don't park in a designated staff lot or "reserved" parking stall.
Don't park over the time limit in a designated 30-minute parking stall.
Warning! DO NOT park in the private parking lot across the street, or your vehicle may be towed.
Designated Parking & Map
STUDENT parking is available in unmarked stalls on the 1st level.
A STAFF parking permit is required to park in STAFF-designated areas, including 2nd level parking (up ramp). Staff must properly display permits at all times.
Students and staff may park in any designated DISABLED parking with a disabled placard. See the map for designations.
30-MINUTE parking is available to visitors for a maximum of 30 minutes—no permit required. Exceeding the time limit will result in a citation, whether or not a parking permit is displayed.
ELECTRIC VEHICLE (EV) CHARGING STATIONS are located on the 1st level next to the patio. EV Charging stations are open to the public. No parking permit is required, with a limit of 4 hours of charging. Exceeding the time limit will result in a citation.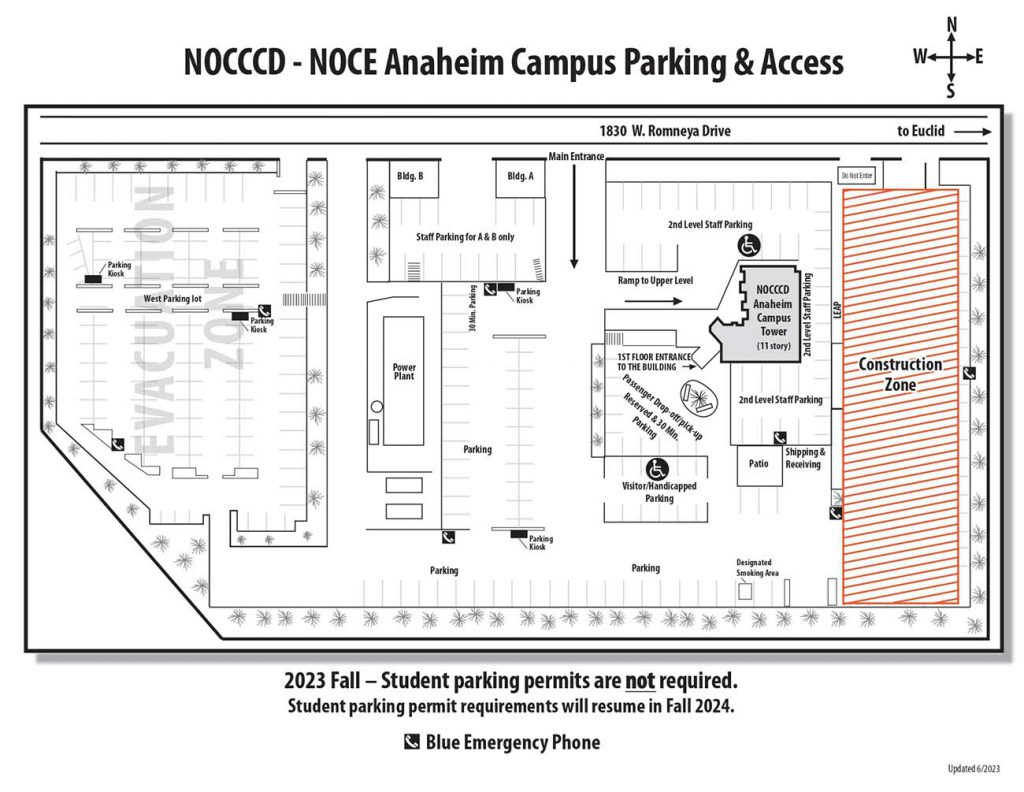 Parking Citation Appeals
If you get a parking ticket and feel it is not justified, you can appeal it by following this process:
All persons receiving a citation shall, within twenty-one (21) days of the date of the Notice of Parking Citation.

Pay the parking penalty, OR
Contest the citation in writing by filing an appeal.

To file an appeal, complete the Parking Violation Appeal Form, sign your statement, and attach the original citation. Turn this into the Anaheim Campus Safety Office on the 2nd Floor.
The results of the appeal will be mailed to you usually within 10-20 working days to the address you provided on the Parking Violation Appeal Form.
Forgetfulness, parking for only a short period, failure to display a parking permit, and/or not seeing the posted signs are not acceptable grounds for appeal.
For questions regarding parking citations and the appeals process at the Anaheim Campus, contact Campus Safety at 714.808.4911.