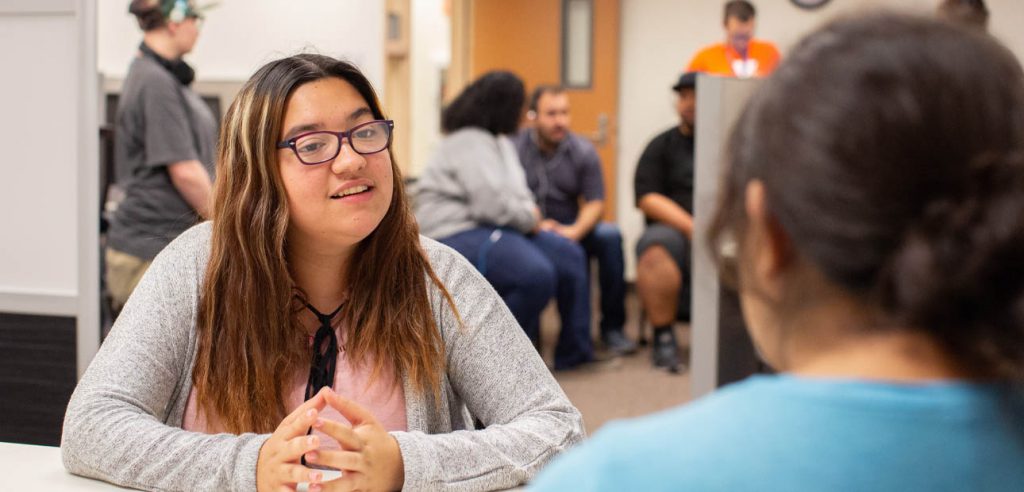 Personalized Support to Create Meaningful Success
Academics, Relationships, Independence, Self-advocacy, Emotional-health (ARISE) – ARISE is an educational support and wellness lab.
The lab has been designed to provide individualized support to students with Autism Spectrum Disorder (ASD) but many students benefit from the services provided by ARISE. Students receive assistance in managing the transition to college, persisting through challenges, and completing their postsecondary education goals. All students who are 18 years or older, and who are enrolled in at least one class at NOCCCD are eligible to take advantage of the ARISE lab's services.
ARISE students can receive counseling and instruction related to topics including:
Executive functioning
Skill-building for decision-making, problem-solving, social, and organizational success
Understanding social cues
Communicating with other students and faculty
Listening to what their own physiology is saying (e.g. overwhelmed, frustrated, etc.)
Requesting services and accommodations
ARISE Virtual Hours
Monday
Tuesday
Wednesday
Thursday
Friday
No Sessions
No Sessions
No Sessions
No Sessions
No Sessions
Virtual Connection
11:30 a.m. – 12:30 p.m.
Zoom Link
No Sessions
No Sessions
Study Sessions:
Time set aside for students to work on any class
assignments individually or with peers.
Virtual Connection:
All students are welcome to chat and connect with other students on Zoom freely.
Zoom Meeting ID:

921 4907 4481

Zoom Password: arise

To meet with an ARISE staff member one-on-one, email us at: arise@noce.edu
ARISE Lab Hours:
Monday – Thursday: 8 a.m. – 4 p.m.
ARISE Lab Location:
Room 404
ARISE Lab Hours:
Monday – Thursday: 8 a.m. – 4 p.m.
ARISE Lab Location:
Business Building, Room 119

ARISE Lab Hours:
Monday & Wednesday: 8 a.m. – 3 p.m.
ARISE Lab Location:
Building 100, Room 108

ARISE Lab Resources & Services
Safe Breakaway Space →
The ARISE lab functions as a dedicated safe space for students when they feel overstimulated or overwhelmed. Specialized lighting, equipment, furniture, and materials make the lab a safe, calm location to help students relax.
---
Expert Student Support →
ARISE lab includes a full-time DSS counselor for instruction and support as well as a student services specialist with experience working with students who have ASD. Students can get help one-on-one or in a small group setting.
---
Staff Training →
The ARISE lab counselors provide professional development, training, and technical assistance to other faculty and staff on campus to improve student support capabilities at NOCE.
What is ARISE
ARISE is a neurodiversity and wellness resource designed to help students achieve their goals. ARISE embraces a holistic approach to student success by focusing on Academics, Relationships, Independence, Self-Advocacy, and Emotional Health. Our mission is to be a sensory-friendly space where students can process and regulate emotions, build and develop social skills, recharge, and equip themselves with the tools they need to successfully complete their academic goals.
Purpose of ARISE
ARISE is an inviting place that students with disabilities can choose to utilize when they are struggling with emotional regulation, overstimulation, or need other support to be successful in achieving their academic goals. Below are some general guidelines for when a student may benefit from visiting ARISE:
A – Academics: ARISE is here to support students who may be struggling with executive functioning in class. We can provide one-on-one or group support to help students utilize strategies like notetaking, study skills, or general college success skills.
R – Relationships: ARISE offers social connections and social group activities for students to gain skills to build healthy, meaningful relationships on campus.
I – Independence: ARISE helps students develop skills to encourage independence in their professional, personal, and academic pursuits.
S – Self-Advocacy: ARISE empowers students to advocate for support to meet personal and academic goals. This could include communicating with family, community resources, instructors, peers, or employment support.
E – Emotional Health: ARISE is a place for students to choose to go when they are feeling overwhelmed with emotions. ARISE is an appropriate place for students to learn coping skills to help regulate and process emotions.