Effective January 1, 2023, as adopted by the NOCCCD Board of Trustees:
NOCE strongly recommends COVID-19 vaccines and boosters for all students and employees.
NOCE strongly recommends that people wear masks to protect themselves and others.
Mandates are no longer in effect as of January 1, 2023.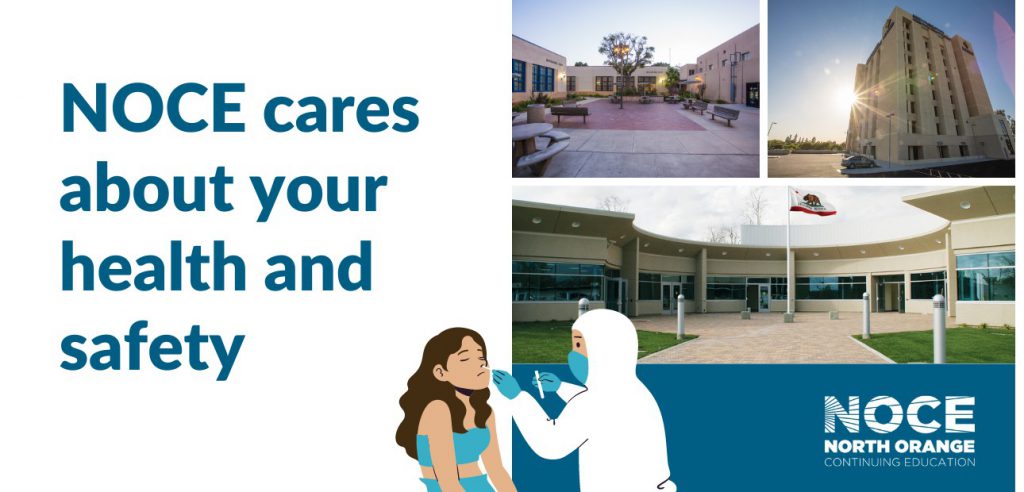 COVID-19 Positive Case Reporting
If you have tested positive for COVID-19 positive, do not come to class. Notify NOCE by calling StarHelp at 714.808.4679 or starhelp@noce.edu.
A manager from your NOCE program will contact you to help you complete the Student COVID-19 Questionaire and to see if self-quarantine is required.
If self-quarantine is required, you may return to campus if the following conditions are met:

Fever-free (of 100.4 or higher) for 24 hours and
Symptoms improved and
At least 10 days have passed since the onset or
At least 10 days have passed after positive contact without symptoms.
COVID-19 Positive Case Protocols – Infographics
Visual infographics were developed to assist in simplifying/visualizing the process for reporting a COVID-19 positive or close contact case. There is an infographic with steps for the following:
---
Campus COVID-19 Resources:
How & Where to Get Tested on Campus

Free COVID-19 testing is available at all three NOCCCD campuses.

All employees and students may register for free testing at all three NOCCCD campuses.

All employees and students taking in-person classes with an approved medical or religious exemption are required to test weekly per the NOCCCD COVID-19 vaccination mandate.

Testing is free.
Testing is open at all three campuses.

Testing is open to anyone. All students are welcome!


Anaheim Campus COVID-19 Testing:

PCR Testing:

Location: Anaheim Campus, Room 118

Hours:

Mondays from 10 a.m. – 7 p.m.
Thursdays from 8 a.m. – 2 p.m.

Cypress Center COVID-19 Testing:

Testing Information:

Location: Cypress College – Gym 2, 1st floor

Hours (By Appointment Only):

Monday –Thursday: 8 a.m. – 5 p.m.
Friday: 8 a.m. – 12 p.m.

Contact Information: 714.484.7361


Wilshire Center COVID-19 Testing:

Testing Information:


Location: Fullerton College – Student Health Services
321 E. Chapman Avenue
Fullerton, CA 92832-2095
Phone: 714.992.7093

Hours:

Monday: 8 a.m. – 1 p.m.

Tuesday: 8 a.m. – 1 p.m.

Wednesday: 8 a.m. – 1 p.m.

Thursday: 8 a.m. – 1 p.m.

Friday: CLOSED

Self-Screening Information

How to collect your nasal swab sample for COVID-19 Testing.

Setup:

1) Open the sampling kit.

2) Apply hand sanitizer with at least 60% alcohol. Cover all surfaces of your hands, and rub them together until dry.

Sample Collection

3) Remove the swab from the container, being careful not to touch the soft end, which is the absorbent tip.

4) Insert the entire absorbent tip of the swab into your nostril, but do not insert the swab more than ¾ of an inch (1.5 cm) into your nose.

5) Slowly rotate the swab against the inside of your nostril at least 4 times for a total of 15 seconds. Be sure to collect any nasal drainage on the swab. Gently remove the swab from your nose.

6) Using the same swab, repeat steps 4-5 in your other nostril.

Preparing Your Sample for Return

7) Place the swab in the sterile tube, and snap off the end of the swab at the break line. Place the cap on the tube.

8) Reapply hand sanitizer. Place the tube containing the swab in the biohazard bag provided, and seal the bag.

Returning the Sample and Clean-Up

9) Give the bag with the swab to testing personnel.

10) Throw away the remaining sample kit items, and reapply hand sanitizer.

How to Find a Vaccination Site Near You
Free COVID-19 At-Home Tests
Every home in the U.S. is eligible to order an additional four free at-⁠home tests beginning November 20. If you did not order tests this fall, you may place two orders for eight tests. Your order of COVID tests is completely free – you won't even pay for shipping.

Please click the link to the official page to place your order.
Mandate Archive: