Are You Ready to Register? Follow the Easy Steps!
English as a second language (ESL) and Citizenship Preparation Program courses at NOCE are free to adults, ages 18 and up.
Start class anytime and learn at your own pace. New classes are starting soon.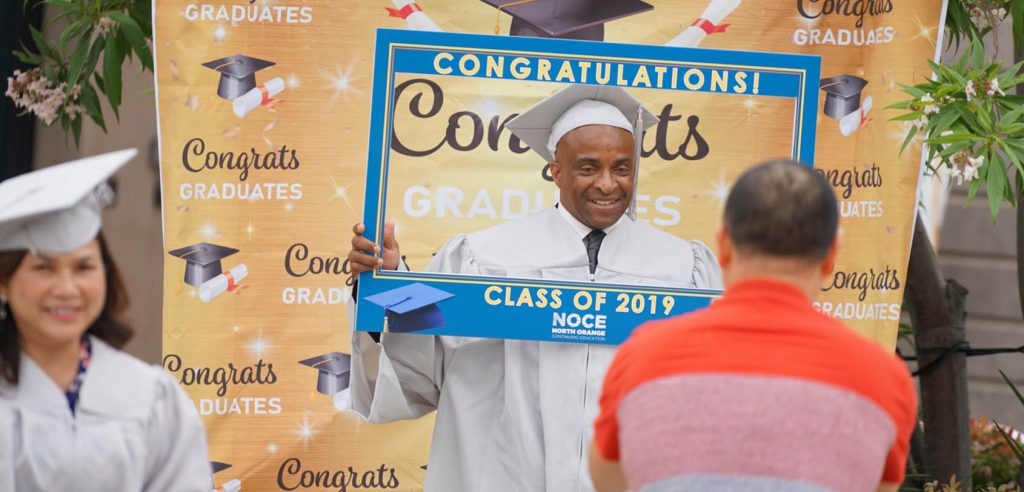 New Students
Registration IN-PERSON

Registration IN-PERSON:

We are here to support you on your academic journey! Students seeking in-person registration are encouraged to schedule appointments to expedite processing. Students are required to have vaccination clearance to enroll in courses at NOCCCD's three sites, Anaheim, Cypress, and Wilshire.

Important: Campus visitors, must wear face masks when indoor in any District facility. Students who need to access campus for a short visit to get help will wear an NOCE YELLOW STICKER to complete your registration and if it's possible bring your vaccination card.

See hours located below:

Anaheim Campus Admissions and Records

Location: 1830 W. Romneya Drive, Anaheim, CA 92801

Second Floor, Anaheim Campus.

Hours:

Monday & Tuesday: 8 a.m. – 7:00 p.m.
Wednesday & Thursday: 8 a.m. – 4:30 p.m.
Friday, Saturday & Sunday: Closed

 

Wilshire Center Admissions and Records

Location: NOCE Wilshire (Fullerton) Center, 315 E. Wilshire Ave, Fullerton, CA 92832, Building 300
Hours:

Monday – Thursday: 8 a.m. – 4:30 p.m.
Friday, Saturday & Sunday: Closed

 

Cypress Center Admissions and Records

Location: NOCE Cypress Center, 9200 Valley View Street, Cypress, CA 90630, Building 100
Hours:

Monday – Thursday: 8 a.m. – 4:30 p.m.
Friday, Saturday & Sunday: Closed

 

Contact Information: 714.484.7038 | starhelp@noce.edu

Registration ONLINE

 

Part 1: Complete the NOCE Interest Form

Complete your contact information
Click submit

 

Part 2: Create an OpenCCC Account

You will receive a Welcome email from the California Community College Website with your account information and a code. Important: This code is NOT your student ID.

 

Part 3: Complete the Noncredit College Application

Complete the form with your information. If you have questions or need assistances please contact us at 714.808.4679 or 714.808.4638.

In 24-48 hours, you will receive your Student ID required for remaining steps

 

COMPLETE ESL ASSESSMENT AND REGISTRATION

Make an appointment with the ESL Program at 714.808.4638 or ESL4ALL@noce.edu
Complete your assessment and registration with the program
Once registered, your instructor or a staff member will reach out to you regarding how to access your course

ATTEND CLASS Starting January 18, 2022 attend class at the location listed in the course description in the class schedule

Attend throughout the 2022 Spring Semester (January 18 – May 27, 2022)
If your class is held in-person, COVID-19 vaccination or approved exemption is required x Please visit the vaccine mandate page for latest COVID-19 vaccine mandate updates

 

COMPLETE NOCE ESL ORIENTATION

Visit myGateway at: mg.nocccd.edu

Login to myGateway
Your user is your Student ID number, if you don't remember your password. Click on Forgot Password. Then follow the steps on the email that you will received (the same email address that you used in your registration the first time)
Click on the NOCE link on the left-hand side of the homepage Under NOCE Orientations
Click on the NOCE ESL Orientation link In-person or online orientation options are available

 

Contact 714.808.4682 for more information
Returning Students
Welcome back! To register for classes, follow these steps:
Students enrolled in English as a Second Language (ESL)/Citizenship Program in the previous term, will be automatically enrolled into classes for the next term.
Your Instructor will reach out to you regarding how to access your course.
For questions about the ESL/Citizenship Program, call 714.808.4638 or e-mail ESL4ALL@noce.edu.
Need Help?
StarHelp can help you with filling out your NOCE application and accessing myGateway student portal.
ESL Program staff and faculty members can help you get set up online, including getting an e-mail address, through the ESL Learning Centers.
We are here to help! We want you to get enrolled and get started in your classes so you can meet your goals. Contact us with questions.