What is an SLO?
A Student Learning Outcome (SLO) is a succinct statement of the skills, competencies, and ideas students should be able to articulate, put into action or utilize after the completion of a course. SLOs are scored through student assessments and the student performance is improved through a program improvement process that incorporates multiple data points.
Accreditation agencies introduced Student Learning Outcomes at the turn of the last century as a way to bridge internal academic practices and external expectations for clear information about what students and graduates know and can do. Assessment of well written SLOs provides:
a

statement of the learning opportunities of a given course or program

d

ata on how to improve instructional programs

t

he transferable skills, knowledge, and attitudes of a student
Why are SLOs important?
Student Learning Outcomes allow students to think and talk about what they have learned. They make it easier for students to "know what they know" and give students a language to communicate what they know to others. 
Assessing outcomes also helps provide more individualized learning paths for diverse groups of learners, provides valuable information to support economic and labor market needs, and improves the quality of education.
What is eLumen?
The most challenging aspect of academic assessment is collecting data. With eLumen software, collecting data for assessment embeds seamlessly into the process of day-to-day teaching and learning. NOCE uses eLumen software to centrally manage assessment projects using flexible rubrics and to collect evidence through multiple methods. This data allows assessment to become part of the continuous improvement plan.
Student Learning Outcomes Annual Report
Check out this year's annual report.
Guiding Principles for SLO Assessment
2010, the Academic Senate for California Community Colleges published the Guiding Principles for SLO Assessment. NOCE uses these 11 principles to guide our Student Learning Outcome Assessment processes.
Principle One:
Faculty are primarily responsible for developing assessment tools and determining the uses of data collected; therefore, faculty engagement and active involvement in SLO assessment is essential.
---
Principle Two:
Outcomes assessment is a process that should involve all appropriate participants at each level of the college, not just select groups or individuals.
---
Principle Three:
SLOs and SLO assessments should be connected to the college's overall culture through the college vision or values statement, program review processes, and college curriculum, planning, and budgeting process.
---
Principle Four:
SLOs should be clearly mapped and aligned throughout a course sequence and among various levels (course, program, institution) to achieve the most efficient and effective assessment.
---
Principle Five:
SLO assessment should be as authentic as possible and minimally intrusive to students' educational experience and the faculty's instructional planning and performance.
---
Principle Six:
Rather than relying on one assessment method for all situations, effective assessment may benefit from a variety of methods, even within a single course, that can respond to different learning outcomes, teaching styles, and student learning needs.
---
Principle Seven:
Assessment data do not exist in a vacuum and must be analyzed alongside all other factors that may impact the achievement of outcomes.
---
Principle Eight:
SLO Assessment processes and grading are different but mutually compatible activities and should complement rather than conflict with each other.
---
Principle Nine:
Effective outcomes assessment requires a college commitment of sufficient staff and resources.
---
Principle Ten:
SLO assessment of student learning outcomes is a process that is separate from faculty evaluation.
---
Principle Eleven:
Faculty should engage in SLO development and assessment not because it is a requirement for accreditation but rather because it is a good professional practice that can benefit programs and students.
SLO Frequently Asked Questions (FAQ)
We understand there might be questions regarding the SLO process, its importance, and its implementation. Here's a compiled list of frequently asked questions to provide clarity. Here is the PDF SLO FAQ version if you wish to print this resource.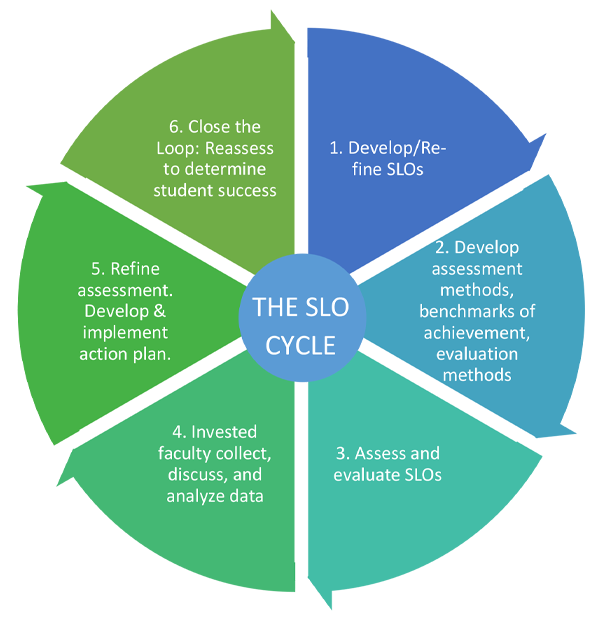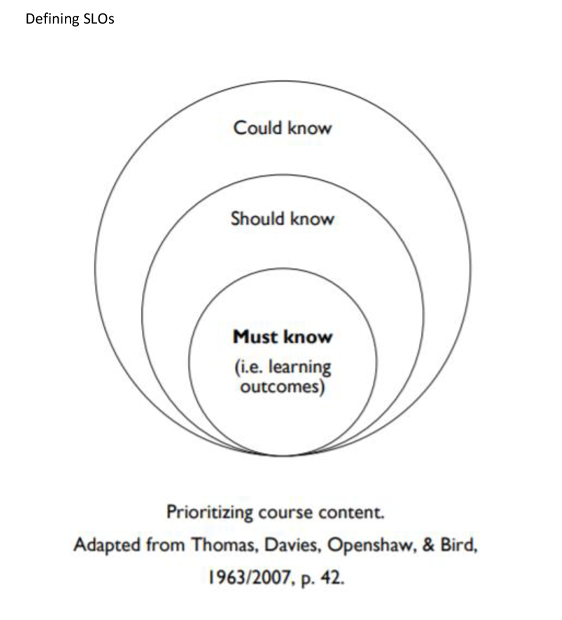 More information?
Download the SLO infographics in PDF form.