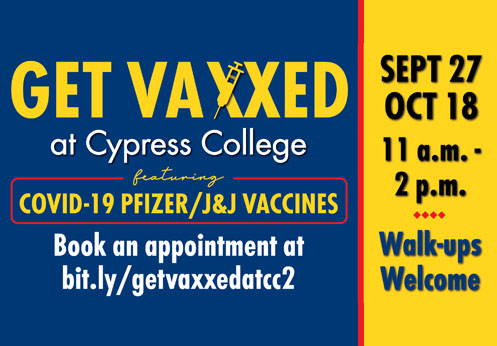 We are excited to partner with Cypress College to host two on-campus vaccine clinics at the NOCE Cypress Center.
In partnership with the Orange County Health Care Agency, those who attend the clinics will meet the NOCCCD vaccination requirement and deadline. The clinics will offer the Pfizer vaccine primarily, along with limited doses of the single-dose Johnson & Johnson vaccine and Moderna vaccine for second doses. 
Event Dates & Details:
Dates: Monday, September 27, 2021, and Monday, October 18, 2021
Location: NOCE Cypress Center (Rooms 17&18, near parking lot 4) 
Time: 11 a.m. – 2 p.m. 
Registration Information: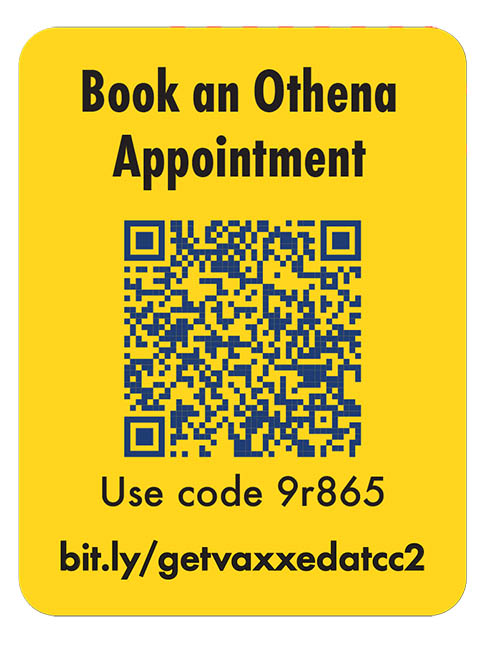 Register for the vaccine clinics through the Othena website or app 
Use Invitation Code: 9r865 
Please Note: This Invitation Code is unique to your clinic and those already registered on Othena. Login to your Othena account, click on the 3-line menu button in the upper left-hand corner, select "invitation code," and then enter this code to book an appointment at the Cypress College Clinic.
This opportunity is free and open to the public; thanks for sharing with your friends and family.  We will also send this message to all students, as well as post this on our social media platforms. We are in this together, so let's work to ensure a safe campus community!