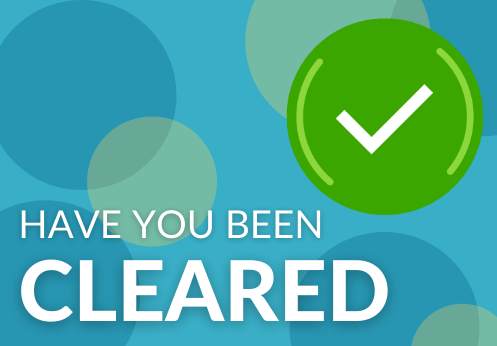 How to Know You Are Cleared to Be On Campus. Starting November 1, 2021…
ALL face-to-face enrolled students and employees who do not have a verified vaccination record or approved medical or religious exemption on file, are required to test weekly to comply with the NOCCCD COVID-19 vaccination mandate. Required testing must be completed on campus.
Students must show their COVID-19 clearance status to access any NOCCCD campus or to attend community location classes.
COVID-19 clearance status is visible in your myGateway account.
---
What do the COVID-19 Clearance Symbols Mean in myGateway?

GREEN CHECKMARK = Cleared to be on campus.

Get NOCE WHITE STICKER, go to class.

YELLOW EXCLAMATION MARK = Late for taking your weekly COVID-19 test.

Take a test, get NOCE WHITE STICKER, go to class.

RED X: Not cleared. You must do one of the following to access campus/class:

Take a test, get an NOCE WHITE STICKER, and go to class.
Submit vaccine record and have it verified.
Submit exemption request and have it approved. Weekly testing requirement.
Fall 2021: Pending status. Students whose clearance is still pending can continue attending in-person classes as long as they do weekly testing.
Denied students should follow instructions as provided to them based on their submission. Students may need to re-submit documentation or switch to online-only classes.

COVID-19 Campus Check-In Process

STEP 1: Show Your COVID-19 Clearance Status at Campus Check-in Station.

On your mobile phone, visit myGateway and show your COVID-19 clearance status at the campus check-in station.
Don't have a mobile phone or need help with your myGateway account? Bring your student ID or class schedule/bill and a photo ID and we will help you.

STEP 2: Get Your NOCE WHITE STICKER

Students are required to wear an NOCE WHITE STICKER showing they are checked-in and cleared for campus.

STEP 3: Attend Class

Show your NOCE WHITE STICKER to your instructor and enjoy your class!

SHORT-TERM VISITS = NOCE YELLOW STICKER

Students who come to campus for a short visit to get help will need an NOCE YELLOW GUEST STICKER to:

Go to Admissions and Records (help with registration, etc.)
Upload vaccine record or exemption form
Get food pantry services
Pick up/drop off loaned laptop
Go to weekly COVID-19 testing

COVID-19 campus clearance/NOCE WHITE STICKER is required for counseling, assessment appointments.

Need Help Getting COVID-19 Campus Clearance?

Visit the NOCE check-in station to get assistance:

Bring your documents to get in-person support with the upload process.
Once your documents are uploaded, you will need to continue testing weekly until your vaccination record is cleared or on an ongoing weekly basis with an approved exemption.
---