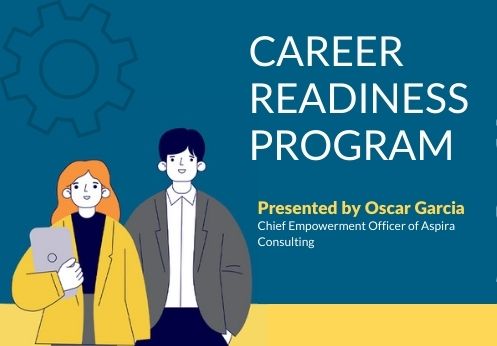 Career Readiness Program
Presented by Oscar Garcia, Chief Empowerment Officer of Aspira Consulting
As first-generation or minority students, our experiences and challenges are different; we are bicultural, multiracial, and encounter the glass ceiling, lack of mentorship, and the opportunity gap. Aspira Consulting provides culturally relevant, practical, and personalized career development and leadership programs that help first-generation and minority students embrace their uniqueness and are their authentic selves. As a first-generation professional, Oscar Garcia has successfully overcome career pitfalls, blended his professional and bicultural identity, and today empowers others, so opportunities come to them.
---
This 5-part virtual career series builds upon each previous training. Students will receive a Professional Development Certificate if they attend all five sessions.
1

|

Tuesday, March 29, 2022, at 4:30 p.m.
2

|

Wednesday, April 6, 2022, at 4:30 p.m.
3

|

Thursday, April 14, 2022, at 4:30 p.m.
4

|

Tuesday, April 19, 2022, at 4:30 p.m.
5

|

Tuesday, April 26, 2022, at 4:30 p.m.
Program Description
This Career Readiness Program gives students real-life examples, tools, and techniques to:
Change the narrative of their personal journey.
Turn adversity into positive career traits.
Market themselves to employers.
Program Topics
How to Tell Your First-Generation Story to Get Hired.
Turning Adversity into Positive Career Traits.
Demystifying Networking.
How to Overcome Imposter Syndrome.
How to Successfully Interview Virtually.
This free event is open to all NOCE, Fullerton College, and Cypress College students.