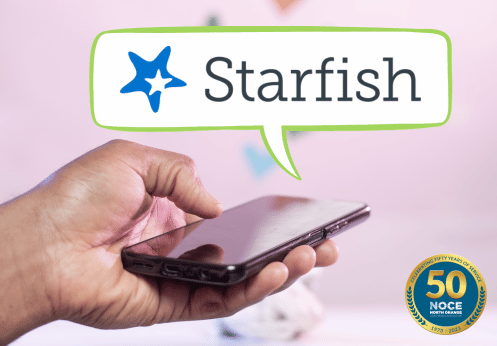 We're thrilled to introduce Starfish, a powerful tool designed to enhance your success as an NOCE student.
First Step
On Tuesday, September 26, 2023, you should receive a text message to your mobile phone number on record. This text will allow you to receive appointment reminders, notifications, and referrals through Starfish. You don't need to do anything when you receive the message, but we want to make sure that you know whom the text is coming from so it's not confused as junk or spam.
All students will receive a "Welcome" text like the one below.
[FC/CC/NOCE Starfish] Updates: Msg&Data rates may apply. Msg freqcy varies. Reply HELP for help, STOP to cancel. Other replies not supported. Update preferences in profile.
To remain connected to this new platform, please do not opt out of messages from Starfish.
What is Starfish?
Starfish is a student success tool that helps connect students to the resources and support they need. The Starfish platform is used to communicate with students and provide easy access to services. Throughout the semester, you may receive a notification from your instructor, tutor, counselor, or other team member using the Starfish platform.
Why Starfish?
Starfish is a one-stop shop for students to go to when they need help. As we implement the platform, we'll share the exciting details. For more information about Starfish, visit www.noce.edu/starfish.
*Please note, if you choose to stop out of the text notifications, you will not receive appointment reminders, notifications, to-dos, or referrals.