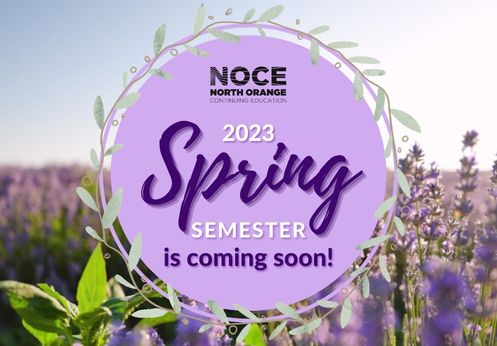 NOCE's 2023 Spring Semester is coming! Registration opens Tuesday, December 6, 2022. For detailed application and registration information, visit noce.edu/registration. 
Learn more about our exciting online and in-person course offerings. NOCE's tuition-free classes can help you finish your diploma, learn English, build career skills, live independently, and more! Visit, noce.edu/schedule to find the right classes for you this spring semester! Classes begin January 13, 2023.
While the District's COVID-19 vaccine mandate is under effect through the end of the 2022 calendar year, the NOCCCD Board of Trustees, at its September 27, 2022 meeting, adopted a position of strongly recommending, rather than mandating, COVID-19 vaccines and strongly recommending boosters for all employees and students, effective January 1, 2023. Masks are also strongly recommended, but not required on campus.
We look forward to seeing you this spring!