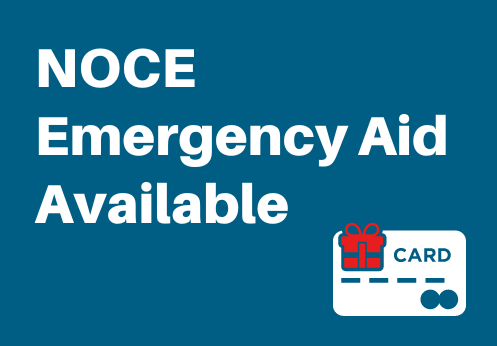 NOCE Emergency Aid Available
Applications open from July 11, 2022 – July 25, 2022 (or until funds run out)

*

*Due to a change of funding, some may not qualify for the gift card. Quantities are limited.
---
Program Benefits
Students will receive aid such as food vouchers and other resources to help them stay enrolled and continue working toward their goals.
Access to additional resources through Pathways of Hope services, including food, basic needs/supplies, and service navigation.
Process To Apply
Be a currently enrolled NOCE student
Students must reside in California to receive a gift card
Submit an application at: noce.edu/emergencyaid
Confirm the need is due to unforeseen financial hardship due to the COVID-19 pandemic
For questions about the Emergency Aid Initiative, contact: emergencyaid@noce.edu.
For more information, visit the Emergency Aid Page.
Need Help?
For in-person application assistance, please contact 714.808.4682 or email counseling@noce.edu.