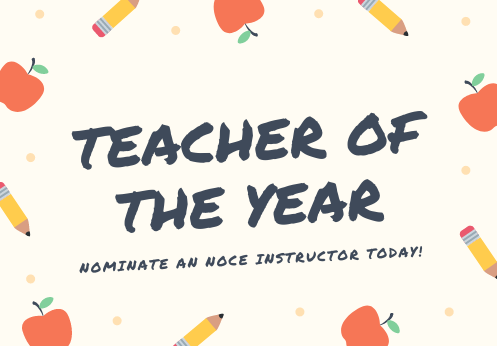 Do you have an amazing instructor? You can nominate them as the Orange County Teacher of the year. This is a wonderful opportunity for you to let everyone know all that your instructors do for you and how they are changing your life.
The nomination process is simple. Please fill out the linked form: NOCE 2021 Teacher of the Year. NOCE's selected nominee will be honored at an annual recognition banquet hosted by the Orange County Department of Education and the premier sponsor, SchoolsFirst Federal Credit Union. You can find more information on OCDE Orange County Teachers of the Year website. If you have any questions, please contact the Vice President of Instruction, Dr. Karen Bautista at kbautista@noce.edu.
The deadline for submitting nomination is February 28, 2021 at 5 pm.
Nominate Your Instructor Now! 
Have an amazing instructor? Nominate them today!