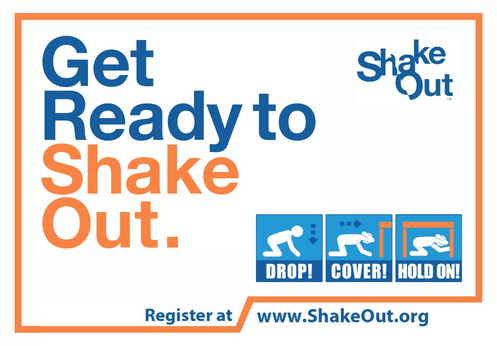 On Thursday, October 19, 2023, at 10:19 a.m. and 7:19 p.m., NOCCCD along with millions of other Californians, will participate in The Great California Shakeout.
Participating is a great way for us to be prepared to survive and recover quickly from big earthquakes — wherever you live, work, or travel.
The drill will be slightly different at each NOCE Center:
NOCE/NOCCCD Anaheim Campus – Morning drill at 10:19 a.m.; evening drill at 7:19 p.m. An evacuation drill will be held following the morning and evening Shakeout exercises.
NOCE Cypress Center/Cypress College – Morning drill at 10:19 a.m. with an evacuation drill; no evening drill will be held.
NOCE Wilshire Center/Fullerton College – Morning drill at 10:19 a.m. with an evacuation drill; no evening drill will be held.
NOCRC Center – No drill on October 19. Staff members are encouraged to review the information and discuss preparedness and evacuation routes.
As with anything, to act quickly, you must practice. You may only have seconds to protect yourself in an earthquake before strong shaking knocks you down or something falls on you. All faculty, staff, and students are expected to participate. The drill consists of a video viewing and a 60-second "drill broadcast" narration with earthquake sound effects.
---
Great ShakeOut Earthquake Drill Documents:
These documents, along with the PowerPoint can be utilized as an instructor-led classroom drill for those classes that are not in session at these scheduled times. A Great ShakeOut simulation video is available on YouTube for instructors or managers to use in the classroom or office. Please enable YouTube closed captions [CC button], if needed. This gives everyone the opportunity to participate in the ShakeOut.
ShakeOut Drill Mass Communications Information
NOCE Campus Communications will test the emergency communication system prior to the morning drill. Messages will be sent to students, faculty, and staff to voice calls, e-mails, and text. This information comes directly from the student/employee database. Please review your information through myGateway.
Need instructions on how to update your information?
Check out this PDF on how to review/update your contact information in myGateway or you can visit, how to update your myGateway information on the NOCE website.
Thank you for your participation and leadership in ensuring our campuses are prepared to survive and recover quickly in the event of a major earthquake!