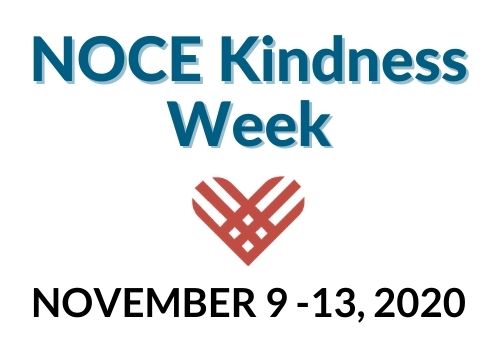 Students, Employees Encouraged to Participate in NOCE's Kindness Week – November 9 – 13, 2020: 
To celebrate World Kindness Day on November 13, NOCE will once again host Kindness Week from November 9-13, 2020. Developed by the Disability Support Services Program, all NOCE students will be encouraged to participate in acts of kindness throughout the week.  
Students are employees are invited to participate in the following activities throughout the week:
Monday, November 9 – Share a Kind Message: Message, call, or e-mail someone to check-in with your friends and family. This is a simple way to boost someone's spirits!  

Tuesday, November 10 – Decorate: Make your world a happier place! Decorate your sidewalk, window, or door with positive messages.  
Wednesday, November 11 – Thank a Veteran: Send gratitude through #OperationGratitude! Complete an online form and thank a Veteran here.

Thursday, November 12 – Spread Social Kindness: Posting an uplifting or positive GIF, meme, or message on social media.   

Friday, November 13 – Download a Kindness App on World Kindness Day! "BeKind" makes recommendations of acts of kindness you can do daily, as well as positive messages to send to friends and family. 
For more information, view the NOCE Kindness Flier here.