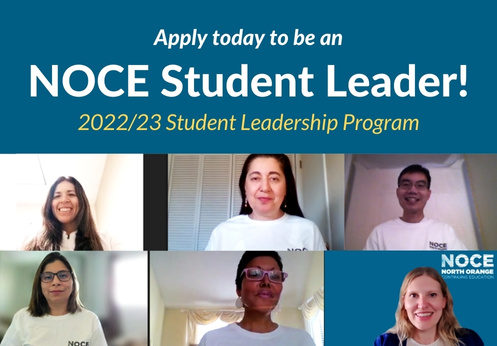 North Orange Continuing Education (NOCE) offers you an opportunity to participate in the growth and development of our school. As a Student Leader, you can impact your and your fellow students' lives and educational experience.
We will be hosting a virtual workshop next Wednesday, September 21, 2022, at 5 p.m. through Zoom.
This workshop will provide you with the following:
Introduce the Student Leadership Program
Provide an overview of a student's involvement
The benefits of becoming a Student Leaders
Answer questions concerning this great leadership program opportunity
Potentially meet some previous Student Leaders
Below please find the Zoom details below:
NOCE Student Leadership Program Workshop
September 21, 2022 at 5 p.m.

Meeting ID: 842 8888 4265
Passcode: 935968
We hope you can join us then as we are excited to meet you and answer your questions.