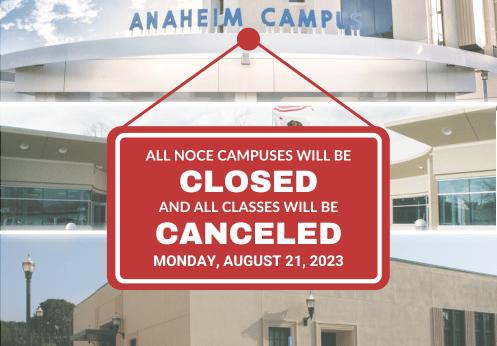 North Orange Continuing Education campuses will be closed on Monday, August 21, 2023, as a result of Tropical Storm Hilary.
All classes, including Distance Education and offsite classes, are canceled tomorrow, August 21, 2023.
Classes and campus operations will resume on Tuesday, August 22, 2023.
The decision to close the campuses on Monday, August 21, 2023, is based on several factors, including:
Impacted travel across the greater Southern California area;
Potential for storm damage such as downed trees and flooding;
Potential for power outages;
Closure of surrounding K-12 districts;
The need for students and employees to have timely information for decision-making (such as having to manage childcare as both Anaheim and Fullerton Unified School Districts will be closed due to the weather).
We encourage our students and employees to monitor our website, campus email, social media, and emergency text messaging systems. Running updates will be posted to: www.noce.edu/news
We wish you safety and encourage you to listen and adhere to updates from your local authorities.