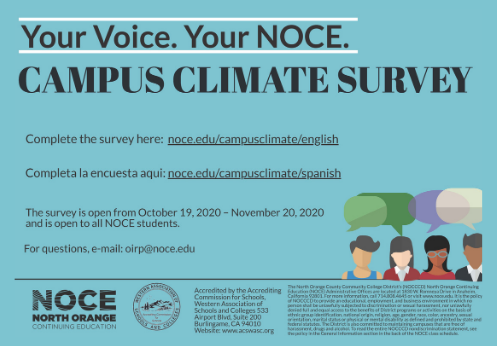 We want to hear from you! Tell us what you think about NOCE!
The Campus Climate Survey is an opportunity for NOCE students, faculty, and staff to provide their thoughts about how well NOCE is serving them. The survey will take approximately 20 minutes to complete. Your feedback will be used to help improve the experience of NOCE students and employees. Please do not take the survey more than once or if you are under the age of 18.
Students have the option to take the Campus Climate Survey in English and Spanish. NOCE employees have a campus climate survey of their own. The deadline to complete this survey is November 20, 2020. For questions about the Campus Climate Survey, contact: oirp@noce.edu. Follow the links below to take the survey today!
English Campus Climate Survey – noce.edu/campusclimate/english.
Spanish Campus Climate Survey – noce.edu/campusclimate/spanish.
Campus Climate for Employees – noce.edu/campusclimate/employee.