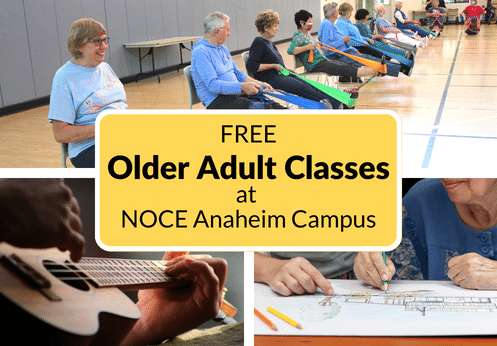 No-Cost Classes for Older Adults at NOCE Anaheim Campus this 2023 Summer
Build friendships while staying healthy and active.
Classes are still open to sign up. Register today! The free courses are for people age 50+ and others who have an interest in the following topics:

Health and Wellness – HLTH 200 (CRN 41657)
1 p.m. – 2:50 p.m. on Tuesdays, June 6 – August 1, 2023
This exercise and wellness class promotes physical and mental well-being in a supportive environment. Includes low-impact aerobic exercises, strength training, balance and flexibility exercises, and relaxation techniques. Lectures and discussions on healthy habits, improving sleep, and managing stress. Fourth floor, room 402A.
---

Music Arts – MUSC 200 (CRN 41660)
9:30 a.m. – 11:20 a.m. on Thursday, June 8 – August 3, 2023
Learn about music from different time periods. Hear music from around the world. Engage in discussions about music and build your sense of community with other students. Students will participate in sing-alongs and other rhythmic activities. Features live guitar music. Fourth floor, room 402A.
---

Creative Arts – CRAE 100 (CRN 41653)
1 p.m. – 2:50 p.m. on Thursdays, June 8 – August 3, 2023
Find new expressive ways to tell your stories and explore the seven elements of art. Learn about artists throughout history who used the mediums the class will explore. Experiment with graphic and sculptural processes using wire, paper, charcoal, clay, paint, and more. Fourth floor, room 402B.
---
NOCE Anaheim Campus, 1830 W. Romneya Dr., Anaheim
Note: Before attending class, course registration is required
Register Today!
Visit the Older Adults registration page for step-by-step instructions on registering for a class!
Need Registration Assistance?
StarHelp can help you fill out your NOCE application, register for classes, and access the myGateway student portal.