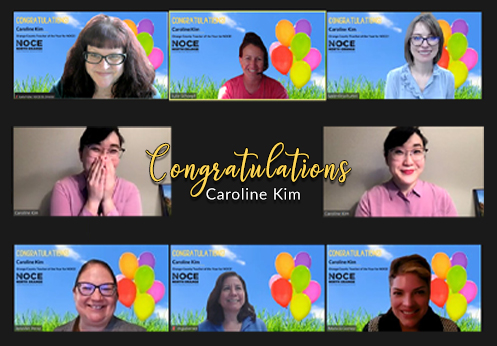 Caroline Kim, Adjunct Instructor for the English as a Second Language (ESL) and Citizenship Program, was selected as NOCE's nominee for the 2023 Orange County Teacher of the Year.
Caroline started at NOCE in January of 2020. She has taught Beginning High, ESL Learning Center, and Citizenship Preparation regularly over the past two years, was also part of the faculty team that updated Citizenship Preparation to focus on Beginning or Intermediate/Advanced learners. Through her mentorship, more than a dozen instructors developed the technology skills and confidence needed to convert their class material to remote instruction. She also serves as an adjunct faculty representative on the NOCE Academic Senate.
Caroline had the most nominations for OC Teacher of the Year, which were submitted by students, alumni, and colleagues. The words passionate, patient, kind, smart, and encouraging were used over and over to describe her. One student summed up perfectly Caroline's dedication as a teacher: "During my [time] studying at NOCE, I have had several teachers. All of them are amazing, but Caroline Kim is just [a] unique teacher and personality…she knows the subject just excellent; she is so enthusiastic and optimistic, she can inspire students and make them more confident. And of course, she is always smiling and always in a good mood."
Along with other nominees from community colleges and K-12 districts, Caroline will be honored at the annual Teacher of the Year celebration in November.