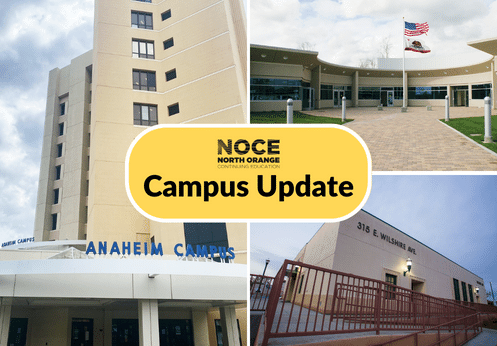 North Orange Continuing Education (NOCE) administration is closely monitoring the weather conditions from Tropical Storm Hilary.
Our top priority is the safety of our students, employees, and campus community.
As of the afternoon of Sunday, August 20, 2023, NOCE is planning to host regular campus operations and classes on Monday, August 21, 2023. Should any changes occur due to the storm, NOCE will notify the campus community via e-mail, social media, and on the website at www.noce.edu/news.
Meanwhile, we urge you to follow these safety tips:
Stay connected. Californians are reminded to dial 3-1-1 to get help or ask questions. If you have a critical emergency, call 911.
Prepare for high winds and ocean surges.
Travel safely. Avoid non-essential travel during the peak of the storm expected Sunday and Monday.
Be ready in case of power outages.
Listen to local authorities. Always follow the guidance of your local authorities, including evacuation orders, road closures and other official notices.