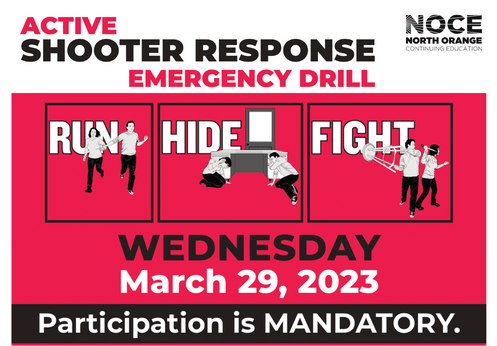 NOCE will participate this spring in emergency preparedness with active shooter response drills.
The drills will be slightly different at each NOCE Center:
NOCE/NOCCCD Anaheim Campus – will host drills on Wednesday, March 29, 2023, at both 10 a.m. and 7 p.m.
NOCE Wilshire/Fullerton College – will host a morning drill on Wednesday, March 29, 2023, at 10:15 a.m.
NOCE Cypress/Cypress College – date pending. Further communication will be shared by Cypress College Campus Safety.
The drills will prepare our campus communities for readiness and response to such an event. The drill will include campus lockdown, emergency communications, and response and will consist of watching a video, discussion with class or office colleagues, shelter-in-place activity, and testing emergency communications.
---
Emergency Notifications at North Orange Continuing Education
Faculty, staff, and students will receive notification from North Orange Continuing Education during an emergency as well as when practicing emergency drills. The campus safety alert system utilizes the phone and e-mail addresses that are entered into Banner or MyGateway.
How to Update Contact Information in MyGatway
Faculty, staff, and students are encouraged to utilize MyGateway to update their personal information for notifications in the event of an emergency. Follow these steps to verify that your phone(s) and e-mail are entered and current.
Thank you for your participation.