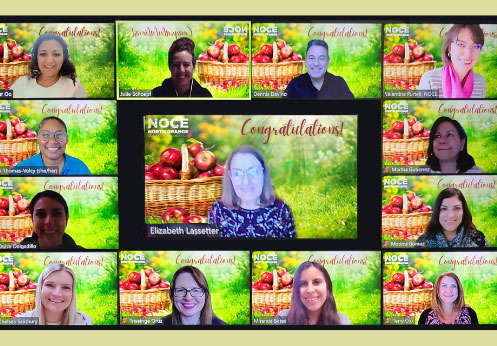 Dear NOCE,
It is my pleasure to announce the NOCE Nominee for the 2022 Orange County Teacher of the Year, Ms. Elizabeth "Lee" Lassetter! Ms. Lassetter is an adjunct faculty member with the Lifeskills Education Advancement Program (LEAP) where she has taught the Senior Chorus and Tone Chime Choirs since June 1995.
Ms. Lasseter is known by her students as upbeat, patient, considerate, encouraging, and gracious. Her students thoroughly enjoy her classes, which is evident in their comments they submitted with their nominations:
"Please recognize the extra dimension of quality of life we are so gratified to receive at this horrific period of isolation for most seniors from this very special architect of music and joy, Ms. Lee Lassetter. Lee richly deserves it."
"If music can calm the silent beast, our teacher Lee Lassetter soothes more souls than all our better angels combined. Lee is an instrumental virtuoso, a maestro of choral direction and an inspiration to those of us whose predominant social interaction is the weekly zoom classes that keeps us in touch. We get to be involved and inspired by the music Lee teaches us to sing."
"Lee goes out of her way to know the names of her students as soon as they join class, graciously welcomes new students who express interest in joining, and introduces them to the class once they join."
"Lee stays in touch with the students that retire from the choirs. When a former member passes away, she will join us as we volunteer our time to participate at the memorial services."
"Lee's classes have been a very important part of my life and my continued well being after retiring from being a choral-vocal teacher for 40 years."
"During this difficult and challenging season of Covid-19, Lee has brought joy, hope and inspiration to the students in her class. She is a true professional and an "angel" for her students."
Lee's educational philosophy and her teaching approach are about not just delivering the content, but about building relationships and being part of the community. Lee and her students have shared their talents in the community by performing at multiple community centers throughout the year and during the winter holiday season. Staff, faculty, and students throughout the district have had the opportunity to enjoy the Tone Chime Choir for multiple performances at holiday parties and board meetings.
Lee, we are proud to have you represent NOCE as our 2022 Orange County Teacher of the Year Nominee!
NOCE President, Valentina Purtell