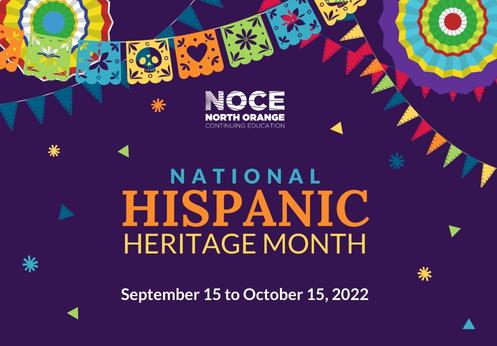 Hispanic Heritage Month begins on September 15, 2022, and represents a special time of reflection and celebration for many of our Latinx and Hispanic communities. North Orange Continuing Education (NOCE) celebrates Hispanic Heritage Month to recognize the achievements and contributions of Latinx and Hispanic champions who have inspired others to achieve success.
We are excited to partner with colleagues throughout the District to host various events! NOCE students, faculty, and staff are invited to participate in these events held throughout our District in September and October for all of us to come together and share cultural experiences.
Hispanic Heritage Month – September 15 to October 15, 2022
---
Legacy & Puente Center Ribbon Cutting Ceremony
Thursday, September 22, 2022
4 p.m. – 7 p.m.
Cypress College, Humanities Building rooms 124 & 128
Join us for the unveiling of the Puente Center mural. There will be refreshments, a mariachi band and drummers, student and parent testimonials, and much more!
---
Student Panel: Shedding Light On The Effects Of The Pandemic On Latinidad
Tuesday, September 27, 2022
10 a.m. – 11:30 a.m.
Online through Zoom
---
Cheech Marin Center For Chicano Art & Culture Museum Tour
Tuesday, October 4, 2022
10 a.m. – 5 p.m.
The bus leaves NOCE Anaheim Campus at 10 a.m.
Join us for a 2-hour tour of The Cheech Marin Center for Chicano Art & Culture. A public-private partnership between RAM, the City of Riverside, and comedian Cheech Marin—one of the world's foremost collectors of Chicano art—The Cheech will be the "Center of Chicano Art, not only for painting, but for sculpture, photography, and video arts."
Transportation and lunch are included. Space is limited and will be first come.
---
LGBTQIA+ History Month Kick-Off Celebration!
Wednesday, October 5, 2022
11:30 a.m.
Fullerton College Quad
---
Indigenous People's Day: The Indigenous Art Of Healing
Monday, October 10, 2022
11:30 a.m. – 1 p.m.
Online through Zoom
Come explore how to rethink the concept of mental health and connect with a sense of shared purpose through spirituality and Indigenous wisdom and practices.
This workshop will incorporate Sound Healing so headphones are recommended. If you plan to participate in sound healing and breathwork, please make sure you are not operating any machinery or driving during the integration of the practice portion of the workshop.
---
Districtwide Closing Ceremony: The Cruz Reynoso Building Dedication Kick-Off
Thursday, October 13, 2022
5 p.m.
Fullerton College, Building 200
---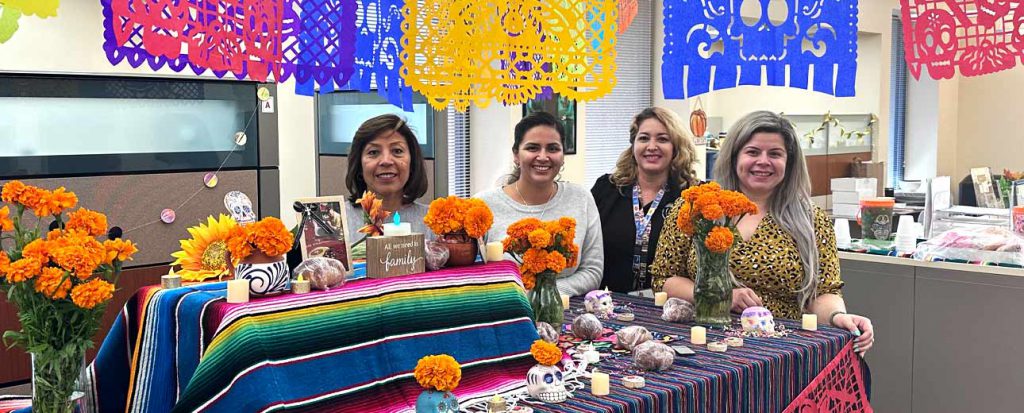 On Dia De Los Muertos, it is a tradition to create an altar to honor and preserve the memory of the people who have passed on in our lives. NOCE has built a community altar at the Anaheim Campus in Room 215. All are welcome to bring an item of significance to be displayed on the altar, such as photos, flowers, candles, and objects special to the loved one.
The altar will be on display until Monday, November 7, 2022. Thank you to staff members Melisa Morales, Marcela Mendoza, Monica Torres, and Rosemary Rangel for creating NOCE's tribute altar.
---
Bone & Memory: The History of Dia De Los Muertos, Day of the Dead
Tuesday, October 25, 2022
10 a.m. – 11:30 a.m.
Online through Zoom
Dia De Los Muertos will be observed at all three schools within the District. At 10 a.m. on Tuesday, October 25, 2022 guest speaker Consuelo G. Flores, MFA, gave a virtual presentation, Bone and Memory: The History of Dia De Los Muertos, Day of the Dead. The 90-minute presentation provided the history of Dia de Los Muertos, the altars' significance, and the three deaths. There's a saying in Mexico that one can die three deaths: the first when life ends; the second when the body returns to the earth; and the third when one ceases to exist in the memories of those still living. In Mexico, an altar is built every year for the Day of the Dead on November 1-2 in remembrance of the dead and to prevent this third tragic death.