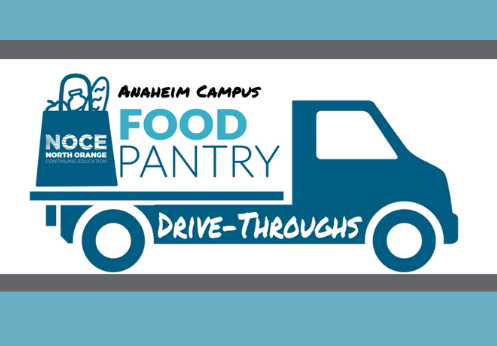 NOCE's will offer food distribution on two Fridays in December on 12/3 and 12/17.
The NOCE campuses will be closed from 12/23 – 1/2/22 for the winter holiday. The first food distribution of 2022 at the Anaheim Campus will be on January 18, 2022.
As an added bonus, students who come through the Anaheim Campus food drive distribution will also receive a #wearenoce t-shirt.
Students will be referred to two resources as an alternative source for food distribution, Cypress College and Pathways of Hope.
Cypress College Food Pantry
Cypress College will offer their weekly food pantry drive-through distribution on Wednesdays through Wednesday, December 23, and then will begin for the spring semester on January 18, with a plan to resume in-person pantry food services.
Pathways of Hope: Hub of Hope
Students can also access the Pathways of Hope (POH) Hub in Fullerton on Mondays – Fridays from 1 p.m. – 4 p.m. The Hub will be closed for holidays but otherwise will continue to be available for students and community members.
The POH Hub will be closed on the following dates:
Thanksgiving holiday – Thursday, November 25 and Friday, November 26.
Christmas holiday – Thursday, December 23 and Friday, December 24.
New Year's holiday – Thursday, December 30 and Friday, December 31