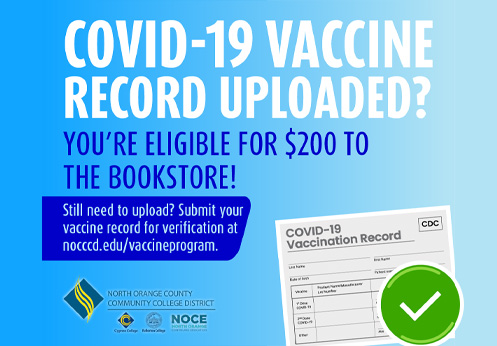 NOCCCD is offering a $200 bookstore credit to 5,000 NOCE students that upload their COVID-19 vaccine records by December 3, 2021. All students who have already uploaded a vaccination record to myGateway will automatically be entered into the opportunity drawing. Winners will be chosen at random.
For more information on how NOCCCD is investing $3 million in public health, read the NOCCCD press release here.
NOCE students can use their $200 credit at either the Cypress College or Fullerton College bookstores (including online purchases).
Note: If you have already uploaded your record to the portal, you are automatically entered. You can verify your vaccination-record status in myGateway.
COVID-19 Vaccine Record Uploaded?
You're eligible for $200 to the bookstore! Still need to upload? Submit your vaccine record for verification and entry.
Frequently Asked Questions
What can I buy with the bookstore gift card?

Anything that the bookstore sells – including books, merchandise, food, and computer/technology products.

When do I need to spend the $200 credit by?

The full balance of the bookstore credit must be spent by April 30, 2022.

Do I need to spend the credit all at once?

No, just make sure the full amount is spent by April 30, 2022.