Need a laptop? NOCE can help!
NOCE will be hosting more Laptop Loan Distribution events at the Anaheim Campus and Cypress Center for students to check out a computer to use for their classwork!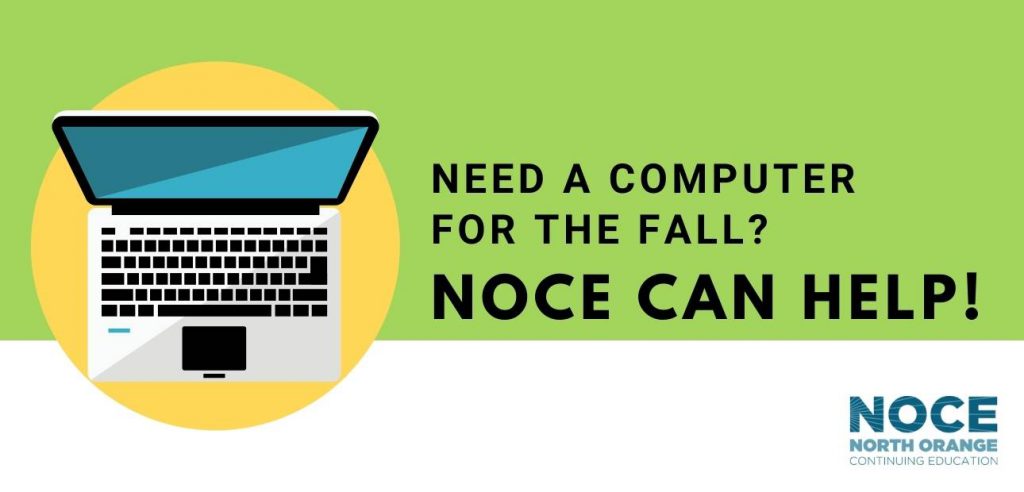 Individual Appointments for Laptop Loan Requests
Appointments are available:
Tuesdays and Thursdays from 10 a.m. – 12 p.m.
Wednesdays from 2:30 p.m. – 4:30 p.m.
Reservations are required and must be made one day prior at noce.edu/laptop
Complete Reservation Form One Day in Advance:
Must be currently enrolled at NOCE for the 2022 Spring Semester.
Visit: noce.edu/laptop to access the Laptop Loan Reservation Form via MyGateway.

If you have a loaned laptop on file, you may request an extension for the 2022 Spring Semester or schedule a time to return the laptop through this reservation system.

Students must know their student ID number and password to log in. If you need help accessing MyGateway, contact StarHelp at: 714.808.4679 or starhelp@noce.edu.
When You Pick Up Your Laptops, Students Should:
Must be currently enrolled in online classes for the 2022 Spring Semester.
Complete the reservation form 24 hours before pick-up: noce.edu/laptop.
Bring the confirmation number listed in the reservation e-mail.
Bring student ID or 2022 Spring Schedule/Bill with your name and ID number listed.
Must wear a mask or facial covering and follow the directions of Campus Safety.