Event Details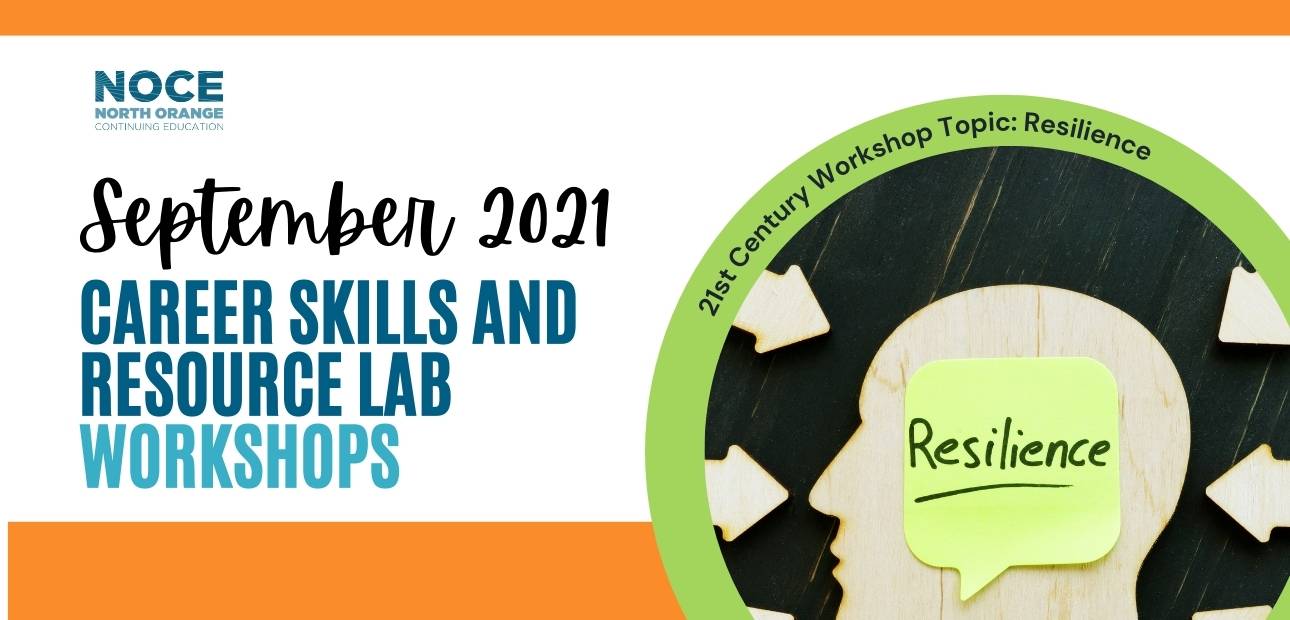 September 2021 Online Career Skills and Resource Lab Workshops
21st Century Skills are career readiness and workplace success skills necessary to gain and maintain employment, as well as advance in a career. These skills include knowledge, work habits, and character traits that employers are looking for and find valuable in the workplace.
How do I develop 21st Century Skills? Each month, NOCE will host a series of workshops focused on 21st-century career readiness and workplace success skills.
21st-century workshop topic for the month of September: Resilience
All workshops will be held online through Zoom. Students who register for any workshops will receive an e-mail with Zoom meeting details the evening before the workshop.

Date
Time
Workshop Title and Description
Wednesday, September 1, 2021
5 p.m. – 6 p.m.
Career Exploration Using Career Coach
Take a short career assessment to learn about careers that match your interests and explore careers
within a pathway.
Thursday, September 2, 2021
5 p.m. – 6 p.m.
Resume Basics
Unsure of where to begin writing a resume? This workshop will discuss the purpose of a resume and how to build your resume using Career Coach.
Wednesday, September 8, 2021
5 p.m. – 6 p.m.
21st Century Skills: Resilience Part 1
Learn the benefits of embracing change in the workplace and how to develop a solution-based mindset
Wednesday, September 15, 2021
5 p.m. – 6 p.m.
21st Century Skills: Resilience Part 2
Learn to develop grit, how to build your optimism, and drive toward success.
Thursday, September 16, 2021
5 p.m. – 6 p.m.
Personal Branding
Learn the concept of branding and how to brand yourself using LinkedIn.
Tuesday, September 21, 2021
5 p.m. – 6 p.m.
Business Etiquette
Learn the basics of business etiquette and the importance of proper etiquette in the workplace.
Thursday, September 23, 2021
5 p.m. – 6 p.m.
LinkedIn 101 Boot Camp Series: What is a LinkedIn Profile
An overview of LinkedIn and the importance of having a LinkedIn profile
Wednesday, September 29, 2021
5 p.m. – 6 p.m.
NOCECareerConnect – Online Job Board
Learn how to access the NOCECareerConnect online job board to look up job opportunities.
Thursday, September 30, 2021
5 p.m. – 6 p.m.
LinkedIn 102 Boot Camp Series: Cool LinkedIn Tools
Discover tools and features to help you navigate LinkedIn and build your LinkedIn profile.
These workshops are designed to give students an opportunity to develop professional relationships, acquire new ideas, improve skills, as well as provide current and relevant job market information to those looking for employment.
---
Career Skills and Resource Lab
Online Fall Semester Center Hours:
Monday – Thursday from 10 a.m. – 8 p.m.
Contact the Career Skills and Resource Lab for more information or to schedule an appointment at:
E-mail: careerhelp@noce.edu
Call: 714.808.4717