Event Details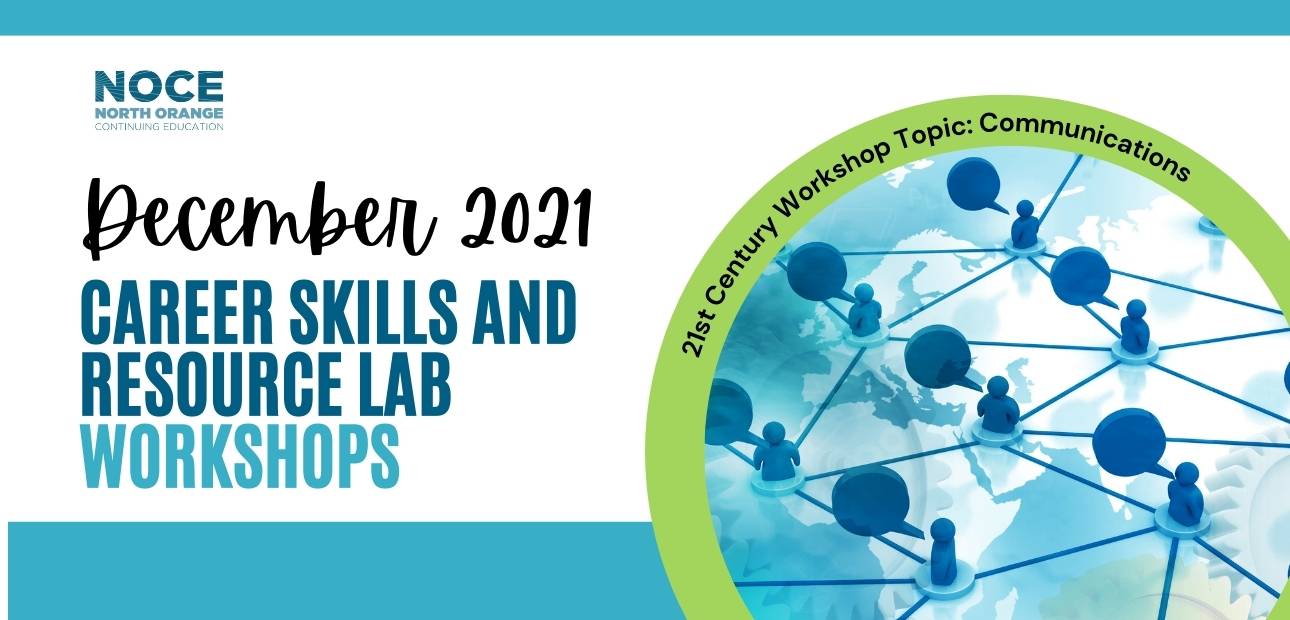 December 2021 Online Career Skills and Resource Lab Workshops
21st Century Skills are career readiness and workplace success skills necessary to gain and maintain employment, as well as advance in a career. These skills include knowledge, work habits, and character traits that employers are looking for and find valuable in the workplace.
How do I develop 21st Century Skills? Each month, NOCE will host a series of workshops focused on 21st-century career readiness and workplace success skills.
21st-century workshop topic for the month of December: Communication
All workshops will be held online through Zoom. Students who register for any workshops will receive an e-mail with Zoom meeting details the evening before the workshop.

Date
Time
Workshop Title and Description
Wednesday, December 1, 2021
5 p.m. – 6 p.m.
Professional Communication
Learn the importance of excellent oral and written communication skills while examining emerging professionals' do's and don'ts.
Thursday, December 2, 2021
5 p.m. – 6 p.m.
Resume Writing
Learn how to highlight your strengths in your resume.
Tuesday, December 7, 2021
5 p.m. – 6 p.m.
Cover Letter
Learn how to write a cover letter even if you don't have work experience.
Wednesday, December 8, 2021
5 p.m. – 6 p.m.
Community College: What You Need to Know to Transfer to College
Learn how to be successful in your transition to a community college.
Thursday, December 9, 2021
5 p.m. – 6 p.m.
Social Media and the Job Search
Learn about the most common social media channels utilized by recruiters.
These workshops are designed to allow students to develop professional relationships, acquire new ideas, improve skills, and provide current and relevant job market information to those looking for employment.
---
Career Skills and Resource Lab
Online Fall Semester Center Hours:
Monday – Thursday from 10 a.m. – 8 p.m.
Contact the Career Skills and Resource Lab for more information or to schedule an appointment at:
E-mail: careerhelp@noce.edu
Call: 714.808.4717